Your tip up flag pops and you go running only to find it frozen in the ice and the fish gone. There's nothing more frustrating than a frozen tip up, and yet all tip ups on the market freeze up. There have been many attempts to eliminate a frozen tip up, however they have all failed for the most part. A standard tip up can freeze up in a matter of minutes and a thermal tip up can up around an hour or two, especially if you're fishing overnight when those temperatures drop. So how do you keep your tip up from freezing up?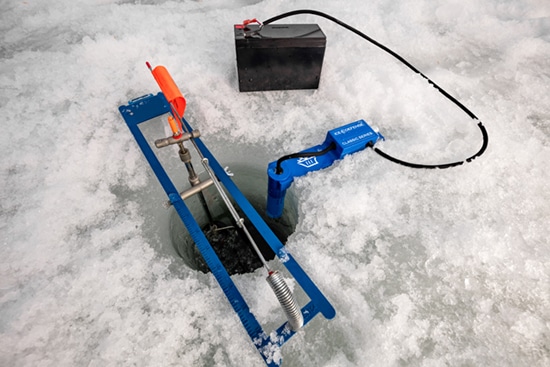 The Ice Defense Classic Series keeps your tip up from freezing up by sitting on the side of the ice hole, drawing up warmer water from the column below the ice, melting any ice and slush in the hole.
Ice Defense from Cold Nation Outdoors:
Made in Minnesota by die hard ice fishermen. Ice Defense sits underneath your tip up in the ice hole, draws warmer water from below the surface and melts slush, snow & any ice formation by expelling that water at the surface to keep your ice hole completely free and clear of ice build-up, including slush in any weather condition down past -30 degrees below 0. Powered by a standard 12 Volt flasher battery, power box, or other 12 Volt power sources, it will keep your tip up from freezing for more than a day's worth of fishing. The Ice Defense is the only product on the market that will eliminate a tip up from freezing over with 100% success rate. It can be used with a standard tip up, a thermal tip up, an IFish Pro tip up, a tip down, including a Jawjacker/Automatic set line product.
Rubbing alcohol, charcoal, scoops, aerators, and agitators have all been used to try and solve the problem of a frozen tip up with zero to no success. An Ice Defense is all you need to never again feel the frustration of losing another fish to a frozen tip up.
Ice Defense is the best way to keep your ice fishing hole open and can be used with any tip up.